Family
Summertime is family time: your summer family vacation in Vienna
The best tips for your summer vacation at Hotel The Harmonie Vienna
Summer is a great time of year for families, especially here in Vienna. So it's best to already plan your short vacation for the next summer vacations. we have put together a few of our own favourite must-dos for the young and the young-at-heart. Read on to find out more.
The Harmonie – family-friendly hotel in the heart of Vienna
Enjoying a great location in one of Vienna's most interesting and vibrant districts, The Harmonie is an excellent base from which to explore all Austria's capital has to offer. Lots of the city's best attractions can be accessed easily on foot such as the Liechtenstein Park by the Palais Liechtenstein. Parents will enjoy the leafy scenery, children will love the play area
Another nearby park, of which Vienna has plenty, is the Augarten. And on hot summer days we can recommend the Donauinsel on the banks of the Danube – just a few kilometres from our hotel – for a refreshing dip with the locals. Last but not least, no visit to Vienna would be complete without a trip to the world-famous Prater park with its giant Ferris wheel.
How to get to The Harmonie in Vienna
Personal tips and services for a great summer stay in Vienna
Family-friendly restaurants, shopping tips,places to cool off in summer or a day out at the world-famous Schönbrunn Zoo – simply speak to a member of staff at reception if you are in search of a few tips on the best things to see and do in Vienna.
Healthy organic breakfast plus hearty afternoon snack
Start the day the right way with our breakfast buffet featuring lots of healthy organic produce After a long morning out and about exploring the city, head back to the hotel for a drink and a snack, including a slice of homemade cake. Our Harmonie Tea Time is every day from 15:00 until 18:00. Rested, relaxed and full of energy, there is still plenty of time to enjoy even more of Vienna's sights before it's time for dinner.
Spacious family-friendly rooms at The Harmonie – your home from home in Vienna
Offering 30 square metres of living space, our Superior Rooms at The Harmonie are ideal for families with children. They sleep up to four people and provide an excellent home base from which to explore the city.
Highlights of our family rooms at The Harmonie:
Cosy seating area
Air conditioning
Super-comfy beds with pocket-spring mattresses
Selection of pillows to choose from (individual comfort & allergy prevention)
Flatscreen TV (42") with channels in several languages, including Sky
Free high-speed internet (throughout the hotel)
Minibar fridge, tea & coffee set
Bathtub
Iron & ironing board
Stylish interior decor with traditional Viennese style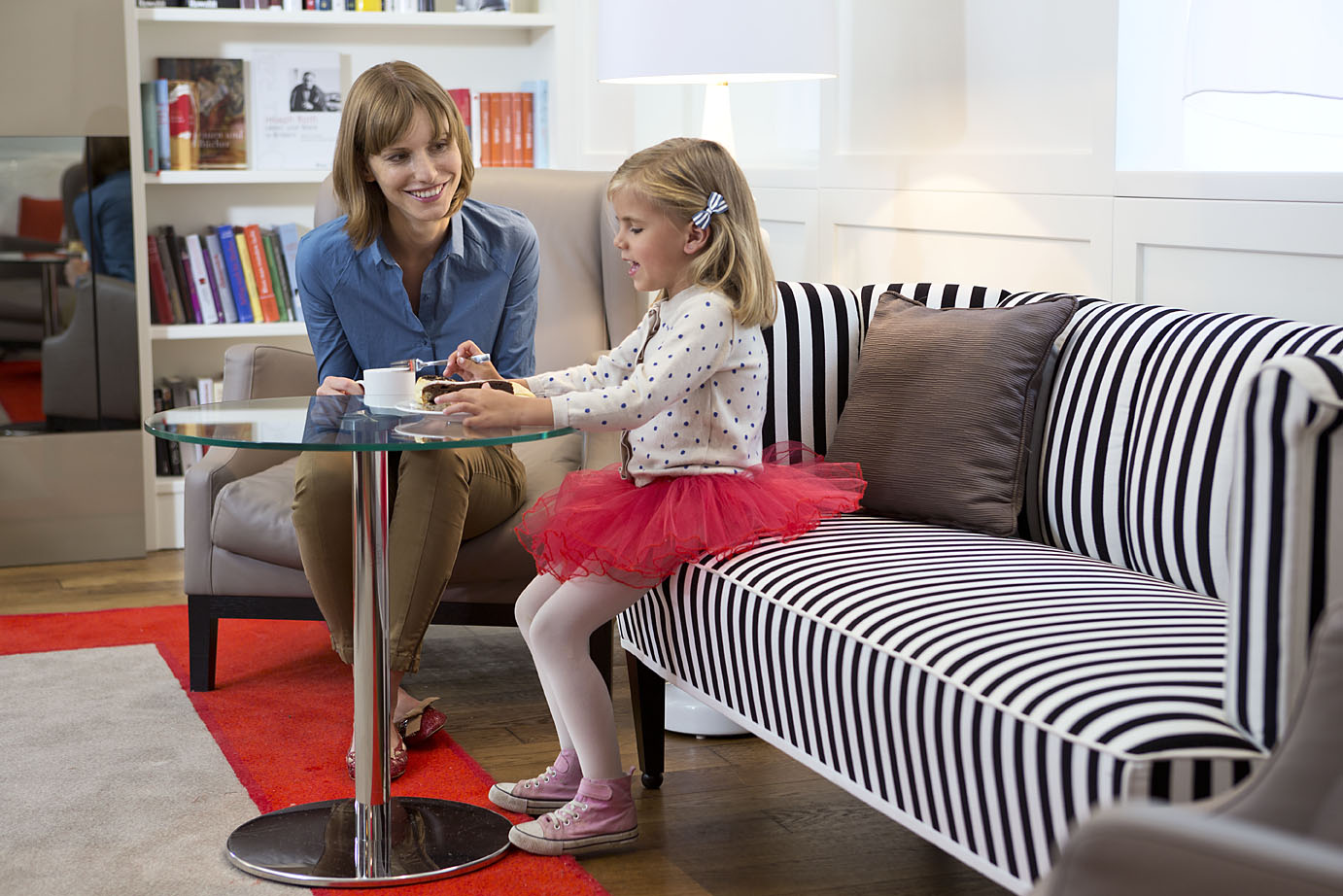 Benefits for families who book direct (phone or e-mail)
Children under 6 years: free of charge
Children from 6 years: €30 per night
Youngsters from 12 years of age: €50 per night
Dog-friendly hotel in the heart of Vienna
Dogs are welcome at The Harmonie. Please be aware that there is an extra charge of €16 per dog per night (food not included).
Vienna is home to numerous parks where children and dogs will enjoy the wide open spaces and beautiful scenery. Some of the best are the baroque-style Augarten and the Prater with its tree-lined boulevards. We wish you an unforgettable stay in the beautiful city we are proud to call home.
Family
Are you excited to get to know Vienna from a different angle?
The central location of The Harmonie Vienna is ideal for getting to know the city center in greater detail.